Welcome to Chesterman Chimneys
Chesterman Chimneys offer a professional, top quality service to customers in South Oxfordshire, South Buckinghamshire & Berkshire areas.
If you are unsure of wether you are in our area then please call or email to check
We are a HETAS registered buisness, meaning that I have been trained & approved thats my work is competant & complies with current installation regulations & standards.
We can prepare fireplaces & hearths ready for installation as well as fit (& supply) wood or multi fuel burning stoves, complete with liner. All jobs are completed to your satisfaction & a HETAS certificate issued.
I am a member of the ICS who are the largest UK chimney sweeping organisation, after sweeping your chimney you will be provided with a certificate recognised by all insurance companies.
Repairs, rebuilds or even complete chimney removals can also be done.
If you have a burner or a chimney problem we can carry out a full inspection & will do our very best to solve the issue for you.
For a high competitive no obligations quote, and to book an appointment please call us today!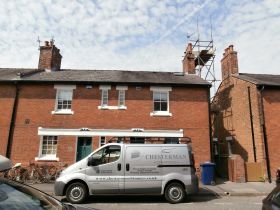 I am easily recognised with my sign written van but also will always carry photographic Identification should you wish too see it.